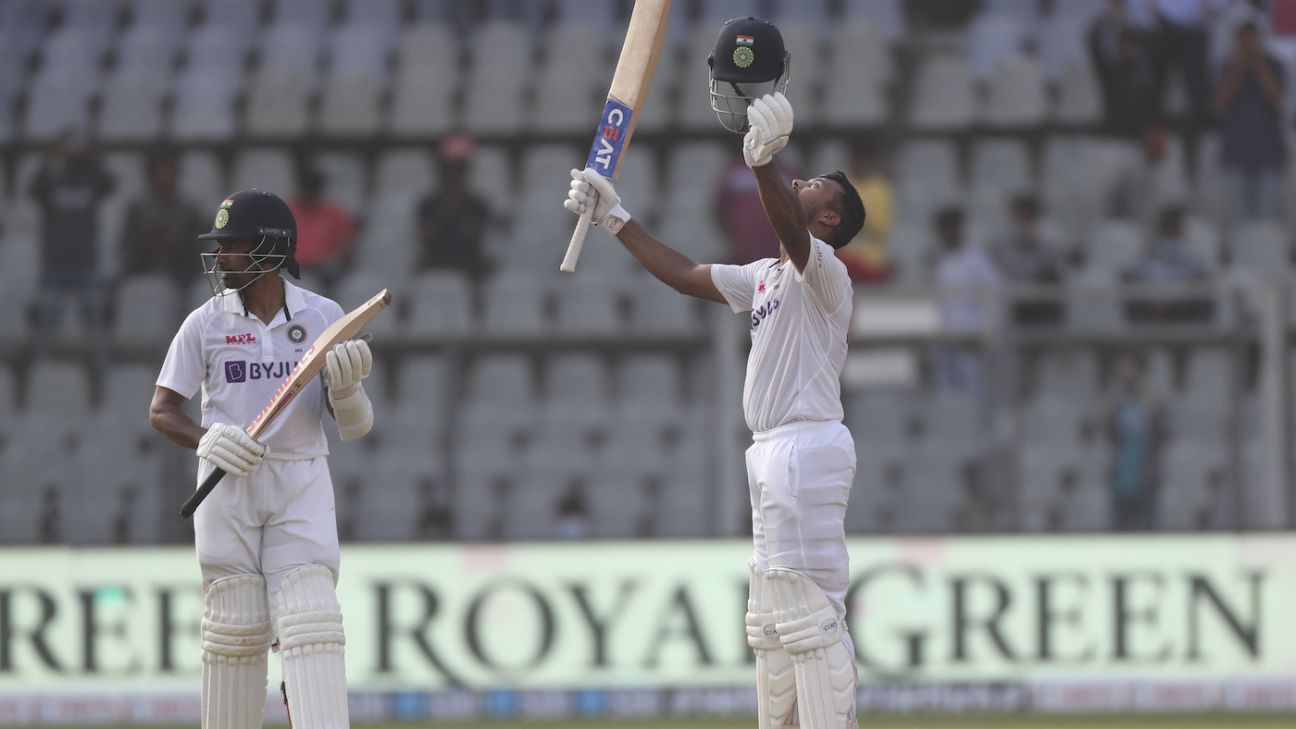 [ad_1]

Report
Agarwal turned his first fifty in 11 innings into a hundred after Ajaz had taken 3 for 0 in the opening session
Stumps India 221 for 4 (Agarwal 120*, Saha 25*, Ajaz 4-73) vs New Zealand
Mayank Agarwal
settled India with a serene hundred after
Ajaz Patel
had snagged three wickets in two overs – including those of the returning Virat Kohli and Cheteshwar Pujara for ducks. India had lost 3 for 0 at that point and when the left-arm fingerspinner struck again to dismiss first Test's hero Shreyas Iyer, they were 160 for 4.
Agarwal and Wriddhiman Saha – both of whom might not have been certainties in India's XI ahead of this Test – then forged an unbroken 61-run partnership to push the total up to 221 for 4 at stumps on a truncated opening day at the Wankhede Stadium.
After wet patches, caused by overnight rain, washed out the morning session and subsequently forced early lunch, Agarwal and Shubman Gill dominated the early exchanges. Gill dashed out of the blocks, hitting three fours in his first six balls. Having been dismissed twice by Kyle Jamieson in Kanpur, Gill stood outside the crease and even took an early trip down the track to Jamieson, flicking him uppishly for four. Gill also lined up Will Somerville's offspin, taking him for 19 off 16 balls.
As for Agarwal, he was more circumspect during the 80-run opening stand. He first saw off a particularly potent first spell from Tim Southee and then eased himself in against the spinners. Despite long-on lurking in the outfield, he stepped out and launched Ajaz down the ground for six and swiped Somerville over midwicket for four.
However, Ajaz, who was born in Mumbai, marked his homecoming with regular strikes around Agarwal. He was introduced into the attack as early as the eighth over after Jamieson leaked 20 runs from his first three overs. He wheeled away for 29 overs amid humid conditions, coming away with 4 for 73, including ten maidens.
In the 28th over, he lured Gill out of the crease and emphatically beat him in flight, but Tom Blundell, the wicketkeeper, botched a stumping chance. Ajaz, though, found Gill's outside edge next ball and had him nicking off to Ross Taylor at slip for 44 off 71 balls.
At the start of his next over, Ajaz thumped Pujara's pad as New Zealand challenged umpire Anil Choudhary's on-field not-out decision. The verdict stayed not out, with ball-tracking suggesting that it would have missed leg stump. Next ball, however, Ajaz got sharp drift and even sharper turn from leg stump to knock back Pujara's off stump – a candidate for the ball of the day.
In the same over, Kohli stretched far too forward and wore a full ball from Ajaz on his front pad before he nicked it. He had called for a review of the on-field out decision, thinking he had hit it with his bat first, but there wasn't enough conclusive evidence for Virender Sharma, the TV umpire, to overturn Choudhary's call.
Agarwal grew more fluent in the post-tea session as he claimed 33 of the 45 runs India had scored in ten overs after the break. He manufactured swinging room and laced Ajaz for back-to-back fours through extra-cover before pounding Somerville for back-to-back fours as well.
Ajaz then found extra bounce to best Iyer and although he continued to find quick turn and bounce, he could not separate Agarwal and Saha. Agarwal reached his fourth Test ton – and first in 14 innings – when he crunched a cover drive off Daryl Mitchell who was picked in place of the
injured Kane Williamson
.
Even before the ball reached the fence, Agarwal raised his arms and as soon as it hit the fence, he leapt for joy and let out a big roar. With Ajinkya Rahane and Ravindra Jadeja also sidelined with injuries and Jayant Yadav listed at No.7, Agarwal seized his chance as the relatively senior batter, finishing the day at 120 not out.
Just before stumps, Ajaz whisked mid-off in and threw down the gauntlet to Agarwal. The batter took it on and swung him over long-off for his fourth six. Saha, meanwhile, kept him good company, nudging and paddling his way to an unbeaten 25 off 53 balls.
While Southee backed up Ajaz with his old-ball mastery despite seemingly struggling to deal with the Mumbai heat, the rest of New Zealand's attack lacked penetration.
Deivarayan Muthu is a sub-editor at ESPNcricinfo
[ad_2]

Source link